There has been much interest from users of the Leica IMS school in accessing our certified training products at an agency wide level. Supervisors have made inquiries about enrolling all members of their organization in a training subscription to increase the technical competency of the whole agency.

In response we've designed a new pricing structure for one year training subscriptions: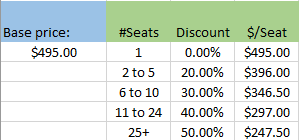 All prices are $US at current exchange rates.
These packages cannot be purchased online, but instead we will arrange for payment through your sales representative and will ask that you provide a list of email addresses of individuals who will be accessing the training service. We will handle the enrollment process.
Contact your MicroSurvey or Leica Geosystems sales representative, or call:
1-800-668-3312
or
1-250-707-0000